I am a textile artist specializing in 2D and 3D art for the home and commercial spaces. My commissions include textile art for small to large-scale sight specific installations.
Inspiration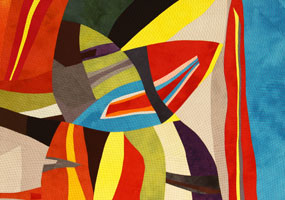 The colors of the trees and flowers are the values and shades I choose when hand dyeing my own fabrics.  I photograph when I travel with my husband in Europe and the United States. I then use these enlarged photos for inspiration to design my wall art.
I have photographed buildings and ceilings in Tuscany and Spain, nature in the United States National Parks, bronze sculptures, trees, and flowers.
To create an artistic quilt means to first find the inspiration – often from my travels with my husband of 19 years.  Then, I dye fabrics of cottons and silks, to find exactly the right colors and textures. Most of the time I am referencing a photo I have taken for colors and shapes to put in the composition.
 
Techniques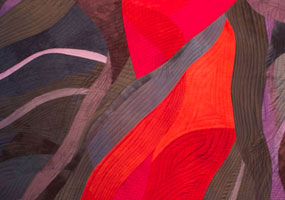 I lay it out on my work table and begin making cuts – sometimes carefully marking each piece, but more often using my eye and experience to cut the pieces so they come together as a graphic image my minds eye seems to control.  Then, each piece is hand-sewn on of my Bernina sewing machines, before I add the filling to begin the quilting process.  The filler is the highest quality cotton or wool batting for an even quilting loft appearance.  
 
Custom Quilting
Then, I begin the quilting process, a unique design to complement the pattern.  Each section is moved in rhythmic motion on my specially designed, long arm heavy duty quilting machine. This is the critical part of, bringing the art together.  At last, after more than a dozen hours, the quilted wall art – typically 70 inches wide, is completed and prepared for final preparation.  
I am currently dyeing in the traditional Japanese dye technique, arashi and itajime shibori.
Career highlights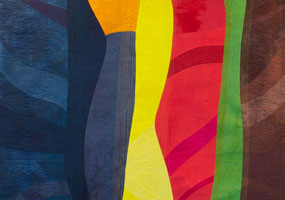 My TV and publication work includes HGTV's "That's Clever" show, Quilters Magazine, Quilting Arts Magazine and Best of Quilting Arts. My work is displayed in juried group, invitational, and solo exhibitions throughout the United States; it also resides in corporate and private collections throughout Indiana. In addition to my textile art exhibits, I teach hand-dyeing fabric with Procion MX dyes and Indigo
I have been juried into Quilt National 2015 and 2017. A collector will own my QN'17 art quilt, titled Indiana Flowers after it comes back from touring. I created 9 Governors Arts Awards for 2016 and have been an arts grant recipient of the Indiana Arts Commission. I am an Indiana Artisan.