I am a textile artist specializing in 2D and 3D art for the home and commercial spaces. My commissions include textile art for small to large-scale sight specific installations.
Inspiration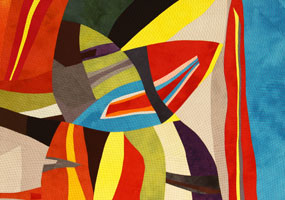 The colors of the trees and flowers are the values and shades I choose when hand dyeing my own fabrics.  I photograph when I travel with my husband in Europe and the United States. I then use these enlarged photos for inspiration to design my wall art.
I have photographed buildings and ceilings in Tuscany and Spain, nature in the United States National Parks, bronze sculptures, trees, and flowers.
Techniques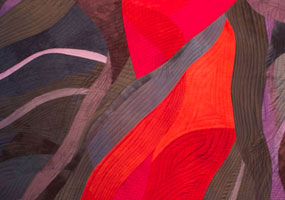 Using fabrics, where I apply the surface designs, along with my photos as design motifs, makes my art personal and totally my own from start to finish. I am able to intuitively rotary cut fabric and sew it back together, incorporating as many pieces or as few pieces that will work in a wall hanging.
I am currently dyeing in the traditional Japanese dye technique, arashi and itajime shibori.
Career highlights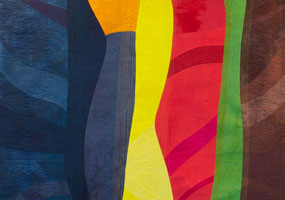 My TV and publication work includes HGTV's "That's Clever" show, Quilters Magazine, Quilting Arts Magazine and Best of Quilting Arts. My work is displayed in juried group, invitational, and solo exhibitions throughout the United States; it also resides in corporate and private collections throughout Indiana. In addition to my textile art exhibits, I teach hand-dyeing fabric with Procion MX dyes and Indigo.